2019 – 2020 Programs List
9-5 – Diana Nestorova, District Governor-Elect with PDG Karin Gaffney
9-6 – Alternative Morning Meeting— at Main Street Café 7:30 a.m.
9-11 – Alternative Evening Meeting— at Lost Shoe Brewery, 5:30-7:30 p.m.
9-12 – Lida Hawkins, Secretary of State's Office, 2020 Census
9-19 – Cheryl Juaire, President, Advocates – Team Sharing
9-26 – Ernie Houle, Superintendent, Assabet Valley Regional Technical H.S.
2019 – 2020 Events
August 31 – June's Table at Holy Family Anglican Church on Lincoln Street, 4:30 to 6:15 p.m.
September 4 – Westborough Club invites to "End of Summer" Fellowship
$20 pp Appetizer Buffet – Cash Bar – 5:00 to 7:30 p.m.
Release Well-Being Center, 201 Turnpike Road, Route 9 Westborough
R.S.V.P. jason.camuti@morganstanley.com
September 28 – Marlborough Rotary Service Day – Details to follow
October 4 – Ribbon Cutting on Boroughs Walking Trail
October 20 – Trunk or Treat— 10 a.m.—12 noon
We have started off running with some amazing programs this year. See below for more coming up. If you are interested in attending one, please contact your friendly Rotary Club of Marlborough Rotarian. Also if you have a wonderful story to share, we would love to hear from you.
Thursday, August 25 District 7910 Governors Pat & Skip Doyle visiting
Thursday, September 1 Susan Nicholl, Executive Director of MetroWest Visitors Bureau
Thursday, September 8 Dept of Trans Peter Caviechi – Ownership Representative
Thursday, September 15 Dan Verrico Marlborough Public Library Foundation
Thursday, September 22 Keith Reardon – 90 Days Right Mind, Right Body
Thursday, September 29 Music from 5000 years of civilization – Shen Yun Performing Arts
Thursday, October 6 Sandy Duffy, President of the Hartford CT Rotary Club
Thursday, October 13 Fascinating subject
Thursday, October 20 Cheryl Rayner Juaire – Ballot Question #4
Thursday, October 27 Author David Greenwood
_________________________________________________________________________________________________________________________________________
May is a busy month around the Marlborough Rotary club and we have one of our members Toni Wolf kicking it off with the Incredible Edibles Gala on Thursday May 5th at 6 p.m. at Charter Oaks in Hudson Ma. For more information see Incredible Edibles 2016
And then we head right into our own Men of Rotary who are about to outdo themselves with this years Italian Night!
Please join us Wednesday, May 11th at Hellenic Hall at the Greek Church on Cashman Street in Marlborough from 5-8 p.m. for a wonderful Italian Night.
A special thanks to our major Sponsor Patriot Ambulance.
Italian Night 2016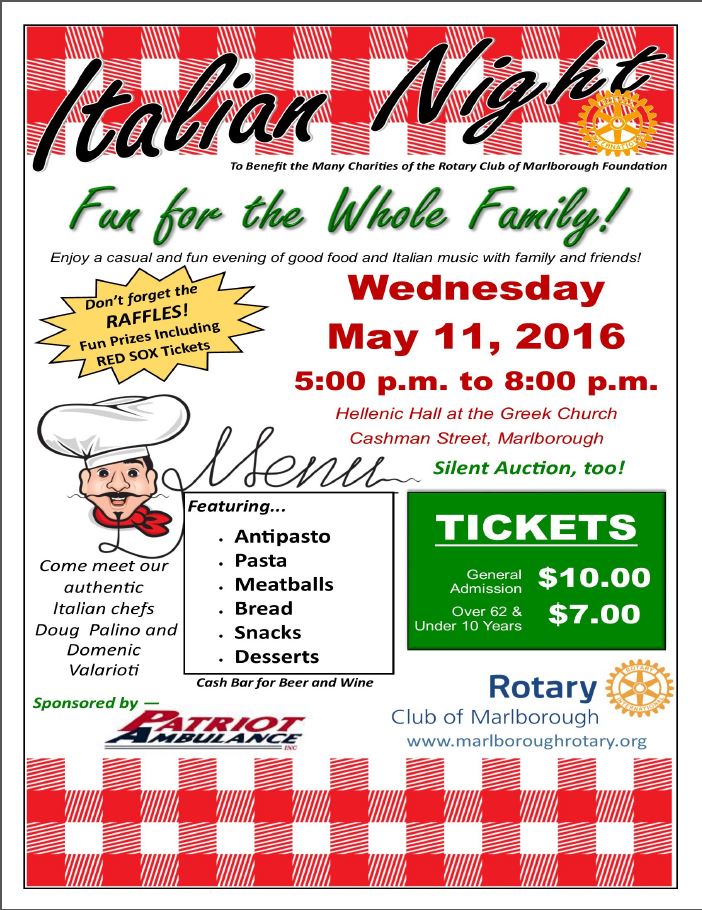 Hungry? Join us tomorrow night to have a great meal and support the local Marlborough Rotary club charities.
Marlborough Rotary Club Dining for a Cause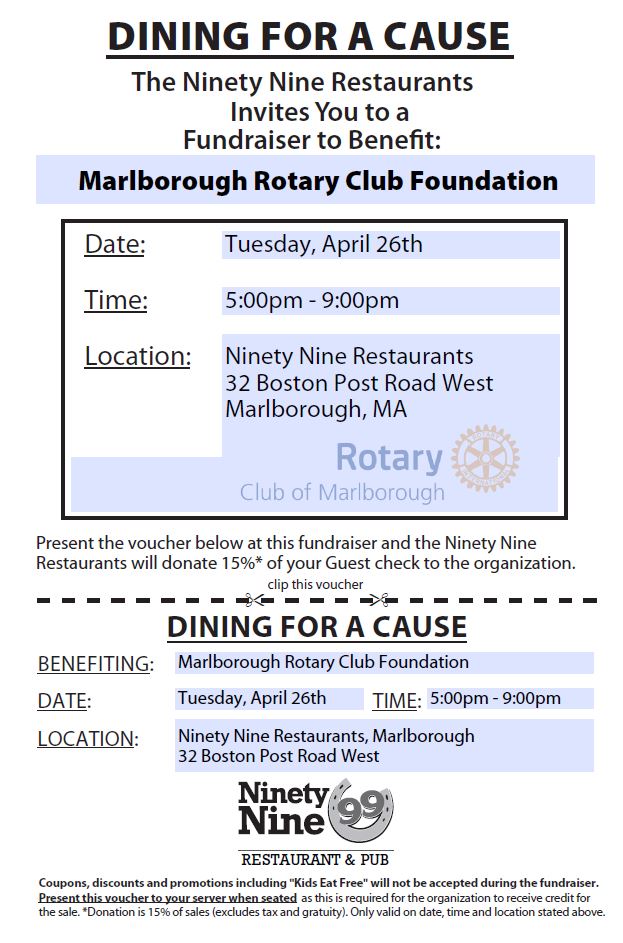 Isn't it amazing how much we accumulate! Even with electronics getting smaller we seem to have more of them.
Well it's that time again to clean things out for a great cause. Supporting the local Marlborough Rotary Club charities.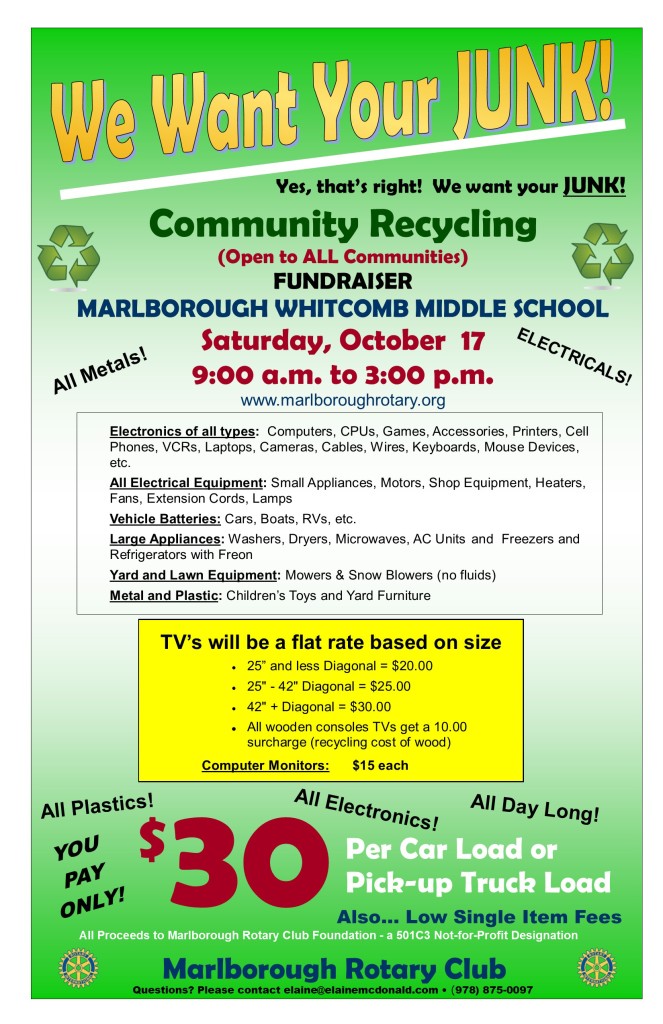 Join us for upcoming programs in 2015!
3/5 Camp Sunshine
3/12 President David Hecht
3/19 Mayor Arthur Vigeant – State of the City of Marlborough
3/26 Essex Exchange Student – Review of her Year so far
4/2 Anne Dickinson – Mt. Kilimanjaro & Safari
4/9 Sam Swisher – Bandey Heffler Exchange
4/16 Jan Lewis – Ghostwriter & Personal Memoir
Stay tuned for more great programs from the Marlborough Rotary club.
What better way to spend your Sunday….get ready to get rid of junk with our spring Recycling event.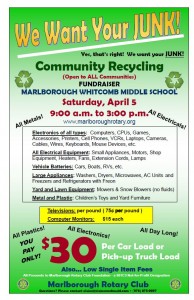 Saturday, April 5th 9 a.m. to 3 p.m. at the Marlborough Whitcomb Middle School!
Have you been dreaming of a new car? Our next fundraiser may be just the thing.
Marlborough Rotary Club Car Raffle
To purchase a ticket, click below. Tickets will be mailed.
ONLINE TICKET SALES HAVE CLOSED. THANK YOU.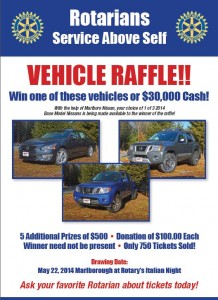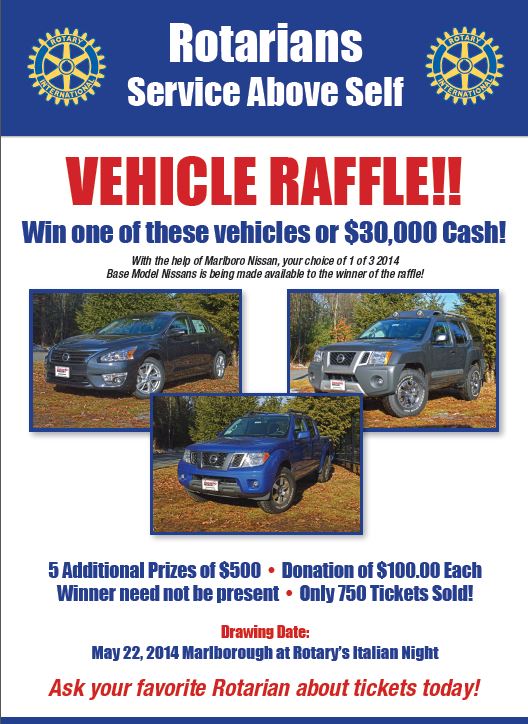 Rescheduled Marlborough Rotary Club brings back our Texas Holdem Poker night.
Please note NEW DATE Saturday, January 25th.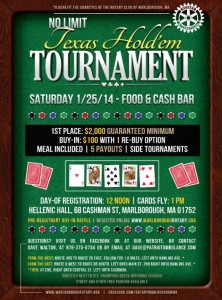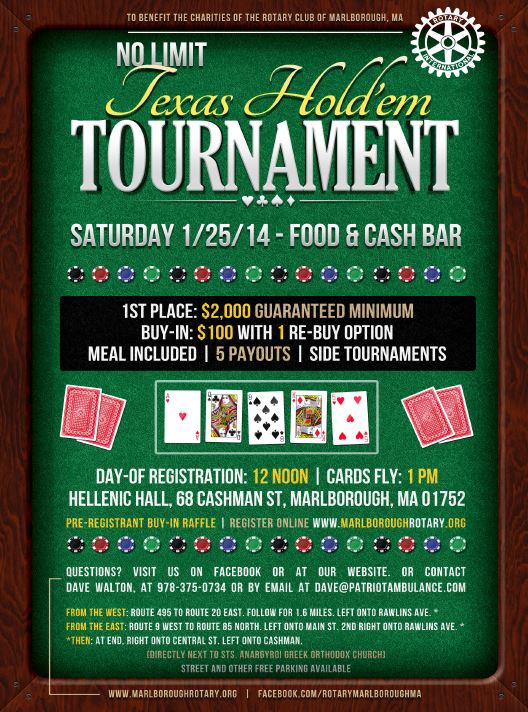 Thank you for supporting the Marlborough Rotary Club.
Reserve your space now, submitting the buy in of $100.00
Marlborough Rotary Club's Italian Night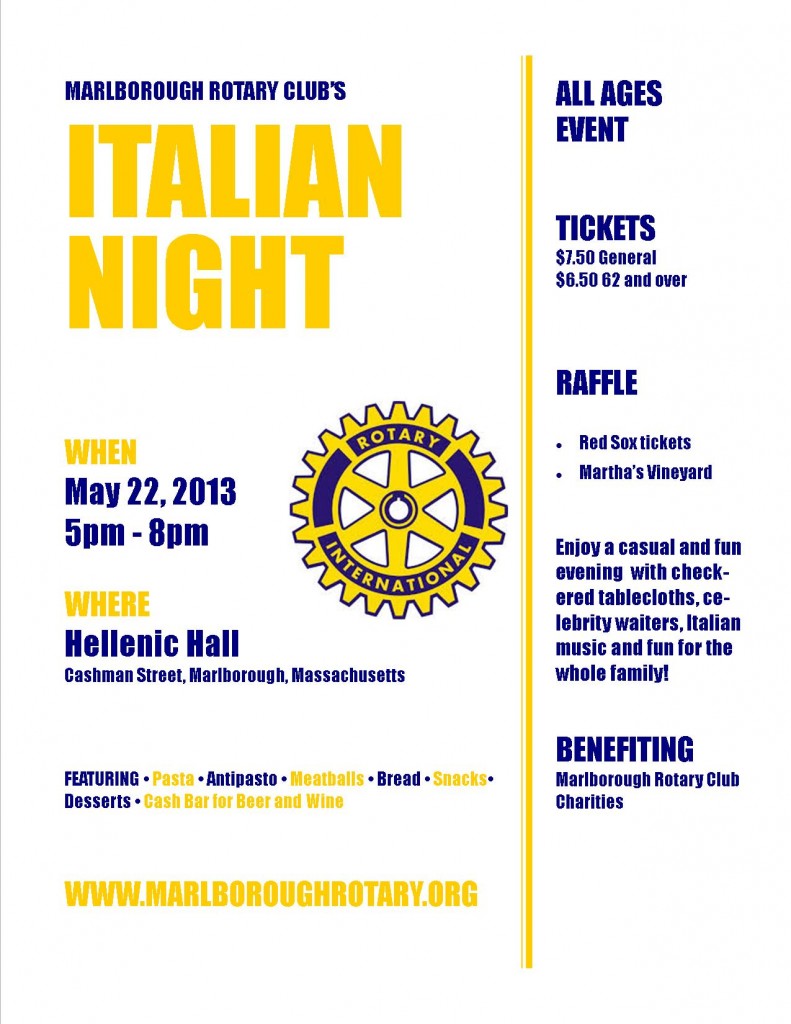 Death by Wine and Chocolate 2013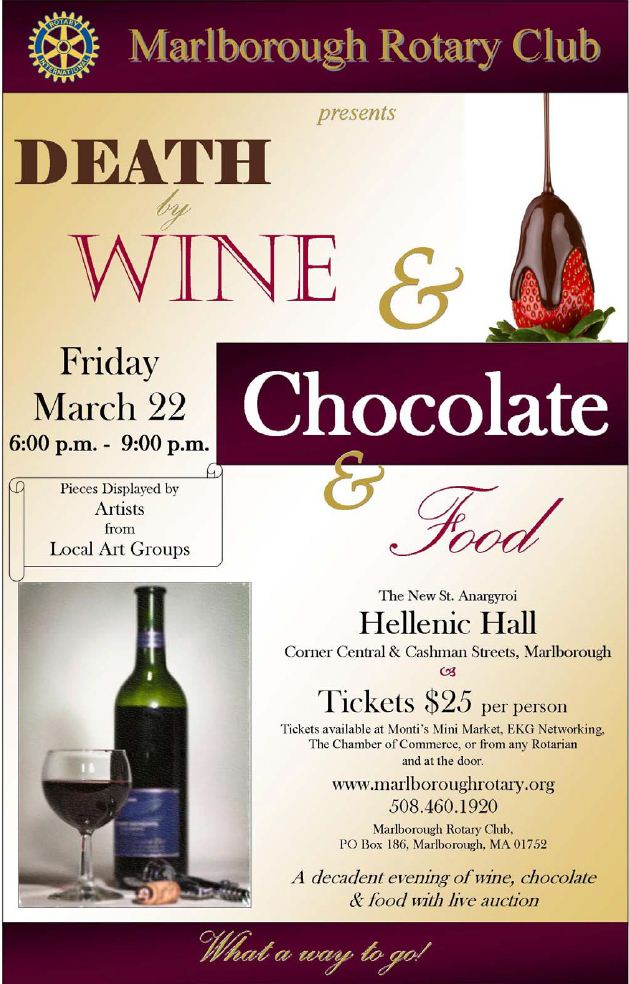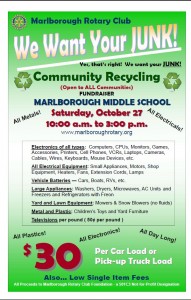 Save the Date: September 29, 2012 Marlborough Rotary Club 90th Anniversary Gala to Benefit Marlborough Hospital Cancer Pavilion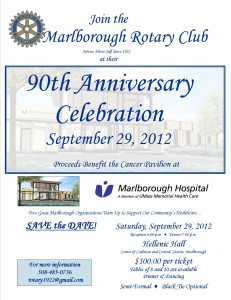 90th Anniversary Gala Save the Date

Upcoming Programs
(or jump down to a list of recent programs or to see events)
4/19/12 Grant Tremelling: Spreading the word about Glycogen Storage Disease
Grant will be sharing information with us about Glycogen Storage Disease type 1A, its' impact on his and his family's life, what's happening in the medical community, and how others can benefit from what's been learned.
4/26/12 John Cowdon (Innkeeper of the Wayside Inn) and Guy LeBlanc (Inn Historian)
John and Guy will be sharing some interesting facts and knowledge about the Inn and the property, as well as telling us about their upcoming annual Antique Show.
5/3/12 Phil Sandler (Rotary Club of Brookline): End Polio Now presentation
Eradicating Polio from the planet is a flagship Rotary endeavor (the Global Polio Eradication Initiative). Phil was inspired by a talk at a 2011 district conference in Maine. Ann Lee Hussey, DG of the Maine district, has led over twenty polio eradication missions, and herself suffers from post-polio syndrome–which affects about half of polio victims 20-40 years after the initial attack. He joined her and eight other Rotarians from the US and Canada during an 11-day trip to Mali, West Africa, last November, helping the people there and chartering new Rotary clubs along the way.
5/10/12 Belinda Rosenblum, Wealth Expert, Author & CPA: Own Your Money
Belinda will be sharing a presentation entitled OWN YOUR MONEY: 3 Secrets to Handling Your Money Once and For All So You Can Gain Control, Save More, and Live the Life You Love
4/27/12 – Annual Wine Tasting Event
(flyer image in new window or tab)
3/23/12 – Reality Check for Assabet students
11/19/11 – Annual Turkey Shoot Raffle at Assabet Tech High
10/24/11 – Marlborough High School Reality Fair. See Peg Thorsen to volunteer.
10/22 – 10/24/11 – Purple Pinky Weekend. See Peg Thorsen for detail.
10/22/11 – Community Recycling Fundraiser – WE WANT YOUR JUNK!
Open flyer for details (PDF)
9/24/11 – Fun and Fellowship for club members at the Italian American Club
4/12/12 Pete Johnson: Mercy Ships – bringing the gift of hope and healing via a floating hospital
4/5/12 Lynne Johnson: Executive Director, Arts Alliance
3/29/12 Paul Mina: United Way: Maintaining the "community safety net"
3/22/12 Leslie Chibani, Bay Path Elder Services & Maureen Letendre: Partnership to Promote Healthy Care Giving
3/15/12 A showing of Marlborough Cable's Helping Hands spotlight on the Rotary Club of Marlborough
3/8/12 Rachel Williams, Ipswich Club: The importance of literacy for achieving peace
3/1/12 : Fellowship and Roundtable
2/23/12 Ben Burger: Trip to Ecuador
2/16/12 Nick Tselikis, USPS (Peter Clarke): Every Door Direct Mail
2/9/12 Marilyn Perry: Adventures in Patagonia
2/2/12 Karen Moore, Pres&CEO Marl Hosp.: Introduction and Hospital Update
1/26/12 Tom Sturiale, Framingham Rotary: Membership, classifications & categories
1/19/12 Matt Zinck: previous experience and upcoming Malawi (Africa) youth medical mission
1/12/12 Arthur Bergeron:
1/5/12 Lynn Faust: Financial Literacy for Adults
12/29/11 Dr. Dawn Gelino: Extrasolar planets – the sequel
12/22/11 Elaine McDonald: Holiday Party / Club Roundtable
12/15/11 A review of favorite programs and additional information about Crutches4Africa
12/8/11 Reimonn Family: inbound/outbound/rebound exchange students
12/1/11 Brenda Finn: Massachusetts International Academy
11/24/11 NO MEETING: NO MEETING
11/17/11 Mary Jo Nawrocki: Assabet Valley Regional Tech
11/10/11 David Talbot: Crutches4Africa (and a special Veterans Day recognition)
11/3/11 Hannaford (pre-Turkey Shoot): Vendor Partner Spotlight
10/27/11 Tom Polito: Official District Governor Visit
10/20/11 Melissa Esteves: Rehab – Marlborough Hills
10/13/11 Kristyn Galante: Worcester Sharks: Experience being new to sports industry
10/6/11 Juliet Jin (30-40 mins): Appreciating Shen Yun and traditional Chinese culture
9/29/11 Elaine McDonald: Club Roundtable
9/22/11 Ellie Anbinder: Art beCAUSE Breast Cancer Foundation
9/15/11 Lee Atherton: Thriving in the Midst of Change
9/8/11 Dr. Charles Lee: Cancer: Advances in genetic diagnoses and personalizing treatment
9/1/11 Doug Detweiler: Rotary Leadership Institute
8/25/11 Jake Kevorkian III: Gold & Silver today, and Numismatics
8/18/11 Amy Parker: KidZafe: internet safety for kids
8/11/11 Dr. Dawn Gelino: Extrasolar planets
8/4/11 Kevin Walsh: The Marrow in Me
7/28/11 Kellie Rowell and son, Sean: Brian Injury and Prevention
7/21/11 Steve Hitner: Alimony Reform update
7/14/11 Stacey Alcorn: Super Sales Success Secrets
7/7/11 Tony Mangeney: Overall student exchange experience, recent American tour, bon voyage (back to France)