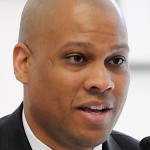 Dr. Anthony Pope will be our speaker on Thursday, August 5.  As he starts in his job as Marlborough's new Superintendent of Schools, he should have much to tell us.  Although, in this short time, he will not have made many plans nor even formed many impressions, it is an opportunity for us to get to know him and for him to know us.
This is a "don't miss" occasion for anyone interested in the future of the Marlborough Public Schools.
See you all for lunch on Thursday!