Are you proud that you are a member of the Marlborough Rotary Club?   Do you believe in the good works of OUR Rotary foundation?
Many of us either forget about it when writing checks for donations or feel the economic pinch that too many of us feel today.  However, we all splurge on a great pair of shoes, a killer set of wheels, or a romantic dinner out – for many reasons, one of which may be pride.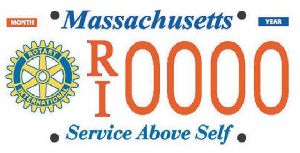 The Rotary license plate makes a donation to OUR Foundation easy while adding an expression of personal pride to your vehicle.  The Registry of Motor Vehicles Special Plate fee is $45 in addition to your regular registration fee.  During the first year, the Rotary Foundation – OUR Foundation – gets a percentage of it.  After the first cycle, OUR Foundation gets the whole $45.
Besides helping OUR Foundation, every donation from our club enhances our club's ability to gain matching grants from OUR Foundation.
The time to register for a plate is now,  while there are still hundreds of numbers left (101-3100).  Choose a number that means something to you – a birthday, anniversary, business related.  First come, first served.
To reserve your plate, send Joe Toomey jtoomey13@aol.com this basic information:
Your first name
Your last name
Your e-mail address
Your first and second choice of number
Got questions?   Send them to me at  mathorsen@verizon.net and I do my best to answer them.
What are you waiting for?