Have a Turkey Shoot in 2020 – Virtual!
Some Good News in 2020
The Rotary Club of Marlborough celebrates it's 38th Annual Turkey Shoot
UPDATED 11/22 – THANK YOU SO MUCH! We had so much fun bringing our virtual Turkey Shoot to you. Thank you to WMCT-TV, their team was outstanding! Below is the YouTube link, you can watch anytime.
Pickup for prizes will be 1:00 p.m. today 11/22 at Assabet Valley Regional Technical High 215 Fitchburg Street. Please drive around to the Epicurean room. No need to get out of your car, this is a drive thru pickup. Make sure to have your ticket with you for pickup. If you cannot make it today, please call the numbers from the flyer to coordinate pickup. Thank you!
Saturday, November 21, 2020 – 6:00 p.m. Broadcasting Live on WMCT-TV and we will be web streaming as well. A website link will be available.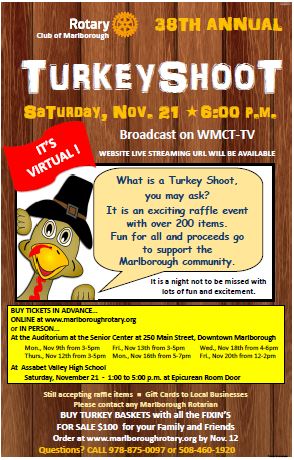 UPDATED 11/21 It's here the virtual 38th Annual Turkey Shoot.
Live stream at www.marlbororotary.org
9:08 P.M Our annual program of table items:
https://www.marlboroughrotary.org/wp-content/uploads/2020/11/2020-Turkey-Shoot-Program.pdf
We are selling tickets in person Friday 11/20 and Saturday 11/21. Social distancing and mask guidelines will be followed.
Buy your tickets at the Auditorium at the Senior Housing located at
250 Main Street in downtown Marlborough:
Friday November 20th from 12-2 p.m.
The Last day to purchase tickets is Saturday November 21 from 1:00 – 5 p.m. only at Assabet Valley Regional High School Fitchburg Street at the Epicurean Room Entrance. We will have a line setup for you to drive through and purchase your tickets. We will be assigning numbers to your lot of tickets to make it easier.
If you have any questions or have issues, please reach out to the phone numbers on the poster. We thank you for helping to support the charities of the Rotary Club of Marlborough. This year, more than ever we need each other and we can get together virtually. So much fun to be announced with this event.